Orientation and Mobility
Diane Brauner and Brook Smith have expertise in working with people who are blind. Diane is an Orientation and Mobility (O&M) specialist who works with people aged 3 to 21 years. Brook is a Teacher of the Visually Impaired (TVI). Diane instructed us in some of the basics of orientation and mobility and gave us the opportunity to try for ourselves.
Part One: getting the facts
Cane Travel
Extend index finger along length of cane for greater leverage
Extend arm
Center the cane at midline
Two Point Cane touch technique
Sweep in arc low to the ground
Tap at each extreme end of the arc
Arc should be approximately the width of the body
Cane Tips
Pencil tip – rounded end
Rolling tip – constant contact, requires less strength to use, won't stick in cracks
Marshmallow tip
Clues and Landmarks
Sound
From impact of object with cane
Open space or confined area
Kitchens, bathrooms, classrooms, cafeterias may be identifiable by the sounds associated with them
Cash register sounds indicate front of store
Touch
Carpeted or tiled floor
Rug at entrance to school or store
Protection
For low objects place arm with palm facing in. Fingers will bend back upon contacting an object.
For high objects place arm in front of chest with palm facing out.
If unsure of object location, use both types of protection.
Sighted guide
Guide puts hand next to visually impaired person so he/she doesn't have to reach
VI person holds guide's arm just above elbow
Guide puts hand on chair to show VI person
Narrow space – Guide brings arm around behind back, VI person can sense the movement and slides hand down to grasp wrist.
Doors - Guide places hand on door to show VI person so he/she doesn't get slammed in the face.
Trailing
Slide hand along edge of wall
Use pinky and the back of your hand
Animals
Children are not provided with guide animals
Dogs require constant retraining and are distracting in a school situation
Personality must match that of the owner
Part 2: practicing what we learned
We were then given the opportunity to try what we had learned. Diane provided us with canes and blindfolds. Something as simple as traveling in a familiar hallway or walking up steps suddenly became a challenge for us. For the last few minutes of class Diane critiqued our performance and we discussed the experience.
How we did
Our posture became unnatural and tense when we put on the blindfolds. Most of us hunched forward and a few leaned backwards. Our gait was altered dramatically as well and the majority tended to use "baby steps".
We did not use our proper protection techniques, but rather when our cane ran into an object we flailed our arms about. We failed to realize that the cane extends our reach and the object was still a step and a half in front of us.
Instead of tapping the cane from right to left we had a tendency to tap from midline to the side holding the cane. This left half of our bodies unprotected.
We need more practice before we become people who are blind.
How we felt
We became immediately disoriented, confused and a bit nervous.
We felt more secure in the narrow hallway as opposed to the open entrance area.
We were much more in tune to the sounds, for example, one student mentioned that he heard the hallway open up to the left.
We were happy to have our sighted partners warn and direct us.
Thanks to Diane and Brook for this experience. As students we are very used to listening to lectures and walking away feeling that we understand. However, all bets were off when those blindfolds came on. We quickly forgot what we had learned about proper protection and cane technique. We all came away with a much greater appreciation for the students who confidently make their way down crowded hallways.
Pictures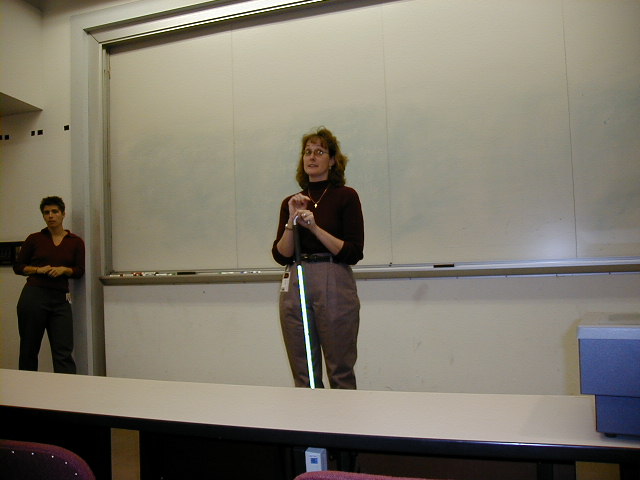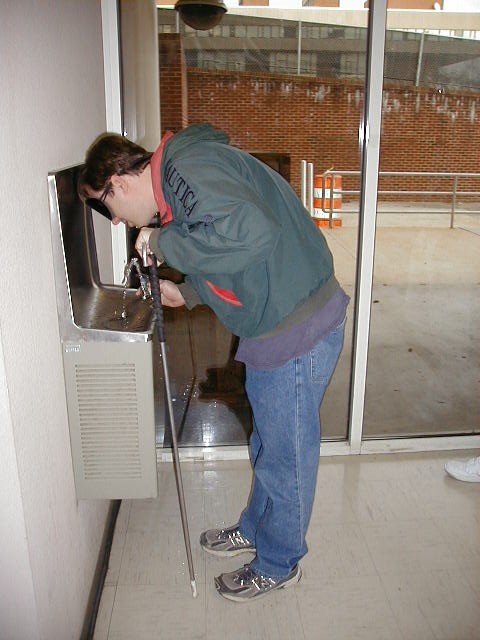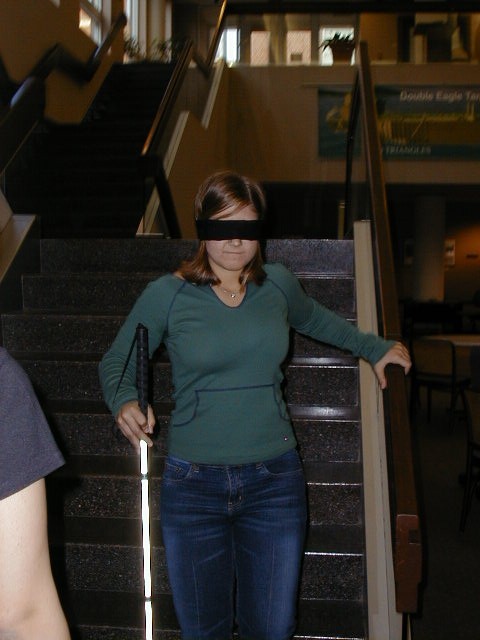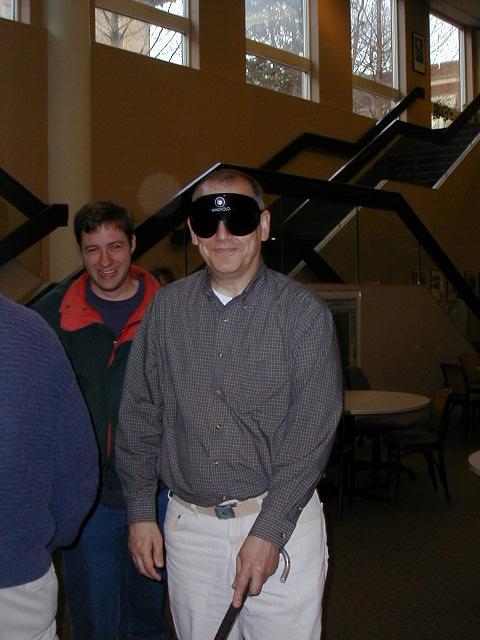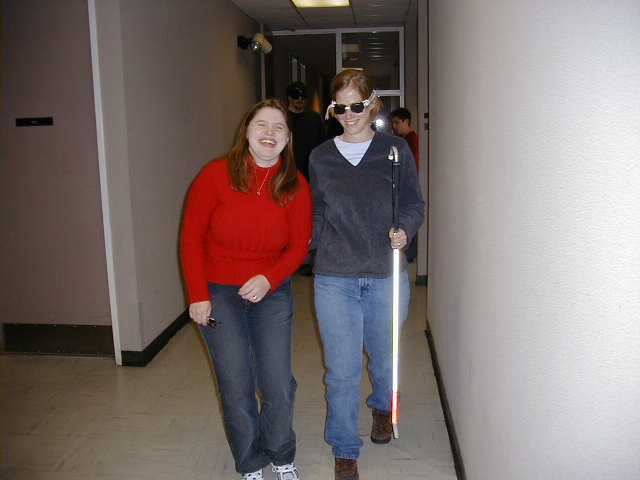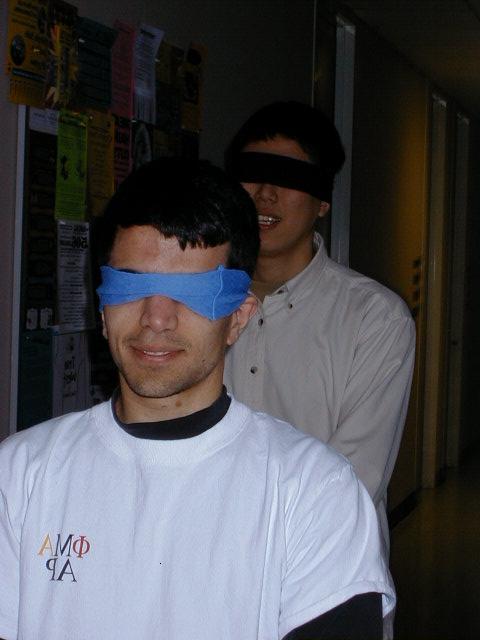 More Pictures: