Service Dog Assistance Devices
We approached this project by contacting trainers of service dogs.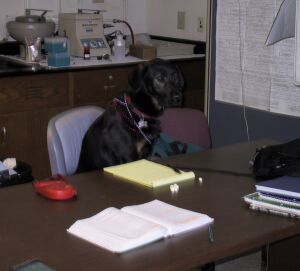 Service dogs perform a variety of tasks to help those with disabilities, often users of wheel-chairs. Our research revealed three main areas where devices are needed; communicating, rewarding and playing. We built devices to aid in two of these areas, communicating and rewarding.
Communication is essential. The dog cannot be of assistance unless the owner is able to instruct the dog. Some disabilities result in difficulty speaking clearly, which makes communicating consistantly with the dog impossible. We designed a box that is ideally suited to allow those with poor motor control to communicate with their service animal. The box is lightweight and portable, designed to be easily attached to a wheelchair. It consists of 4 large, easy to press buttons and a switch to allow each button to have two levels, for a total of 8 possible commands. The box has built in jacks for attaching an external speaker and for using a microphone to record commands. With the speaker and command box attached separately to the wheelchair, the box can be easily removed and reprogrammed with new commands or repaired as needed. Also, an external speaker allows the user many options as to which kind of speaker needed/desired. Some users may find they need a more powerful speaker, while others prefer a quieter one. The entire device runs off one 9v battery, which should last several weeks. The voice chip used in the device can store the commands for up to 100 years without power, so if the battery runs out, the commands are not lost.
There are many commercially available communications devices. These products are generally very expensive. The Pocket Go Talk , for example, is $429.00 plus the case is strongly recommended at $69.00. This product is similar to ours except it has five buttons and five levels for a total of 25 sounds (compared to four buttons and two levels on our device). This website has many of the currently available products (website is UK based).
Rewarding the service dog is also critical. It increases the bonding with the owner and provides the service dog with much-needed positive reinforcement. Limited hand mobility can make the task of giving the dog a treat a challenging task. We has several requests for such a device, as currently none is commercially available. One person actually strapped a gumball machine to their wheelchair! We felt that we could design a simple, stream-lined version to make this task easier.
Our design is very simple to build and operate. It is basically two nesting tubes, the inside one has a small opening in it. We threaded a hexnut through the top of the tube so it swings freely. The device can then be clamped to the arm of the wheelchair. When you push down the outside tube falls and a treat falls out of the opening in the inside tube.
The treat dispenser requires some gross motor coordination but no fine motor coordination. There is an issue with reliability, as sometimes no or all of the treats dispense. For the most part, however, a single treat is dispensed, therefore is close enough for all practical purposes. We have sent the device to a trainer and hope to get feedback so we can refine the design.
To learn more about all types of assistant dogs, try the following link http://www.k9events.com/assistant%20dog%20sites.htm.
Click here for designs and instructions on how we built our devices.