Our Project
What is our project? The purpose of our project is to create and accessible typing tutor that can be used by both people who are sighted and people who have visual impairments. We wanted to make our project both educational and entertaining. Because of this, it will contain a tutor that will teach where the keys are on the keyboard and what fingers should press them. The tutor will start with the home keys as the 'resting' point for the fingers. It will also have a game. A word will scroll across the screen and the user will have a certain amount of time to type that word. The project contains nice visual elements for the user aswell as integrated audio to allow users that are blind to benefit as well.
How was our project made? The project was developed using Macromedia Director. We choose this medium because it has built in text to speech abilities. It also allows for our project to be used on different computers and operating systems. It can also be delivered via the web. The great part about Director is the ease at which it allows us to implement audio and video.

How will this project be accessible? Text-to-Speech or recorded audio files will speak all menu options, instructions, letters and words used in the program. Interaction with the program can be done with the mouse, but the keyboard can also be used to interact with all parts.
Why are we doing this? Right now, the options for accessible typing tutors are limited or expensive. Typing is a skill that everyone can benefit from and we wanted to take this opportunity to bring an accessible, free, typing tutor that everyone can use and benefit from. Plus, it was a great opportunity for us to have fun and get our creative juices flowing. It was also a great oppurtunity to reach out and benefit society.
Testing. With the Help of Diane Brauner we meet with some students that were blind. For the most part, they really enjoyed the game and found it helpful. One suggestion they had was to put beeps when the fire was nearing the house. Originally we just had the fire sound moving from left to right. Hopefully, in the future we will be able to add the beeping sound. It was also Ms. Brauner's idea to allow the teachers to input words of their choosing. There were also concerns about version for different kinds of OS as well as different hardware specifications. We had to keep these concerns in mind.
What else has been done?

Regular Typing tutors:

1) Many versions
Range from free to ~$50
(accessible)google search for 'typing tutor'
Con: Not useful for all users

Other accessibility options

1) LINK talking keyboard
Con: Expensive-$1,395
2) Braille key stickers
Con: Not practical(hard to feel keys without pressing them)

Other Talking Typing tutors

What exactly does our program do?

1) The key tutor Takes the user through the keys on the keyboard one by one. Starts off with the home keys (with g and h). It then teaches students the top row of keys followed by the bottom row. For each key, the user is told which finger is used to press the key. They then get a chance to try. If they are correct, they get a message telling them so. If not, they are told which key the pressed and are given another chance. This will continue until they press the right key.
2) Fire Game On the left side of the screen is a house. On the right there is a fire that is slowly moving towards the house. The fire graphic has a word under it. The word is spoken once. The user can press the enter key to have the word spoken one letter at a time. If the user types the word in correctly, the fire is pushed back a bit, away from the house. But, the more words that are typed correct, the faster the fire starts to move. If surround sounds speakers are set up, the fire can be heard moving from the right side to the left side through the speakers. An audio clue like beeping is heard when the fire gets close to the house. If the user does not get the word correct, a sound will be heard to let them know and they will have another chance to type the correct letter. A pop-up keyboard on the screen can be activated to highlight which key is being pressed, as well as say each key as it is typed. One neat feature is the ability for a user, like a teacher, to enter words of their chosing. The can also decide the pronunciation of a word in case it is different then how the Text-to-Speech says it. This way they can enter words like spelling words or words the have relivance to the subject that they are currently studying.
3) help menu: Provides all the information and instructions need to navigate through and operate our program. And of course, these instructions are read out loud as well.


Problems and Solutions

Problem:
Text-to-speech can be hard to understand. Also, some older computers might not have the necessary components to allow this feature to be heard.
Solution:
Record as many sounds as possible. Our voices will be used, which are easier to understand. The file will be a simple wav, which can be used on any computer.
Problem:
Coordination of media elements:
Solution:
Learning how to pass control between menus and active screen elements. Assure sound stops when active element stops.
Problem:
Integration of our work: Sometimes each of us had worked on different components of the project and when we went to put them together the program would crash
Solution:
Through checking of the code and standardization of the elements in our project allowed for smoother, non-crashing integration of our individual work.

Final Thoughts. Both of us have to agree this was one of the better and more fun projects we have done in computer science. It was a project that was extremly meaningful. We were able to design a product that was needed and benefited society. We were also able to see our results first-hand when the kids tested our project. It feels good to be able to help people out, espcially being able to use our computer skills to do so. We hope this product will be used and that many others will follow. With our project complete, hopefully no kid will ever have go to the computer lab and have nothing to do.
Code
Fianl Presentaion
Tutor director file(must have Macromedia Director to see)
Tutor exe file(click to play)
Cast elements(download to folder "Casts". Required to see director file) Newest Version(Only this file required)
Pictures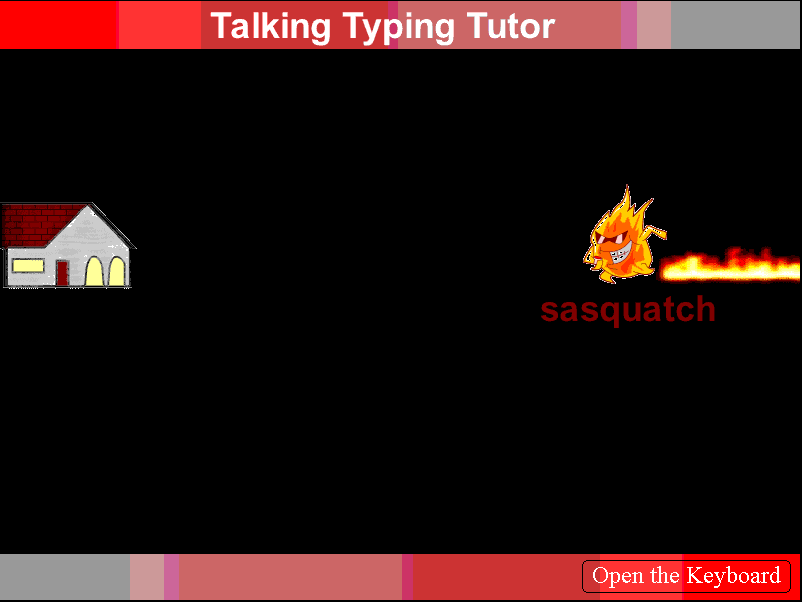 Attack of the killer fire!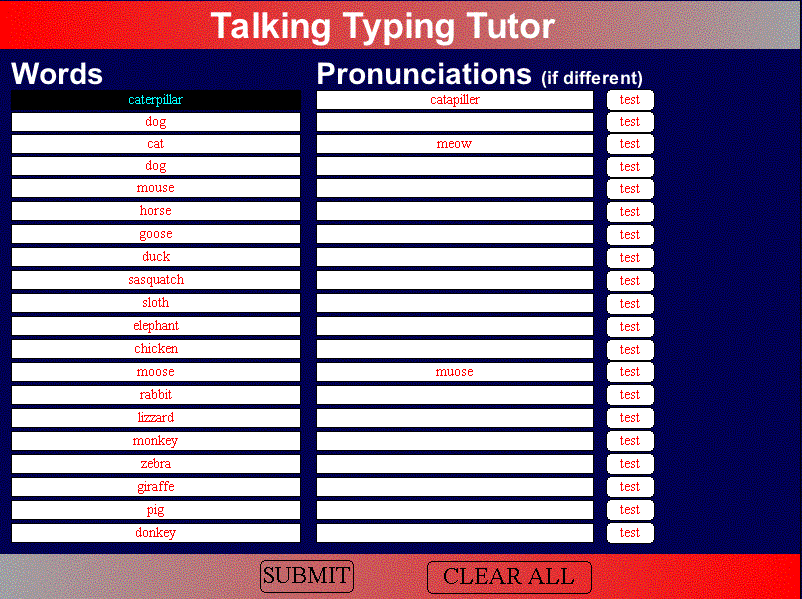 You can enter your own words!